Posted by:




Posted on:




Category:


Android Games, IOS Games, MacOS Games, NFT Games, Online games, Windows Games

Android Games, IOS Games, MacOS Games, NFT Games, Online games, Windows Games

System:




Web game

Developer:


Sky Mavis

Price:


USD

0

Views:


1904
If you want a game that is both entertaining and money-making, go for Axie Infinity. We'll help you make hundreds of thousands a day in just a few languages. However, to play effectively, Download Games Free will guide you in detail about this NFT game in the content below.
A brief introduction to the game Axie Infinity
Axie Infinity is an NFT-based game designed and operated by Sky Mavis company. The game features an Ethereum-based cryptocurrency called AXS (short for Axie Infinity Shards) and SLP (short for Smooth Love Potion). Up to now, Axie Infinity is the most expensive NFT game to play in the world according to data from DappRadar. This game after launch, the price has increased 5 times after only 1 week. That proves the hotness and potential of this game in the village of NFT games.
Another special thing about Axie Infinity is that this game was developed based on the idea of ​​a Vietnamese man named Trung Nguyen (find more about him at wikipedia). Sky Mavis company raised more than $1.5 million in 2019 from investment funds: Animoca Brands, Hashed, Samsung, Ubisoft, Pangea Blockchain Fund, ConsenSys and 500 Startups. This is one of the games that is considered the number 1 in the NFT gaming community today. So download the game Axie Infinity and play Axie Infinity like? Find out more in the content below:
Axie Infinity Game Instructions
Before going into the details of the tutorial, you need to visit the Website to download the game to your computer: https://axieinfinity.com/.
Step 1: Download and install MetaMask wallet on your Chrome browser, create a wallet and deposit some ETH into the ETH wallet. You can buy ETH from Binance and withdraw to your wallet.
Step 2: Download and install Ronin Wallet on your Chrome browser and proceed to create the wallet. Similar to the installation method as Metamask wallet but with a different interface.
Step 3: Use Ronin Bridge app to transfer ETH from Metamask wallet to Ronin wallet.
Step 4: Create an account on Axie Infinity
Step 5: You will see Ronin Wallet or email and password, click to login to Ronin Wallet.
Step 6: Ronin Wallet will pop up, click Sign Up (no ETH needed).
You continue to create an email and password to protect your account
Create an Email and password for the account, then receive the game code sent to the email for confirmation.
Step 7: Buy 3 Axie on Market place 
As of now, there are about 140,000 Axies in the world. To play this game you need at least 3 Axies from Axie Infinity Marketplace. 3 children in Axie Infinity currently cost about 0.21 ETH / child, so before that you have to deposit at least 0.7 ETH to be able to play.
Step 8: To play the game, you must download the application for the phone or computer operating system. Select "Play Now" in the upper left corner.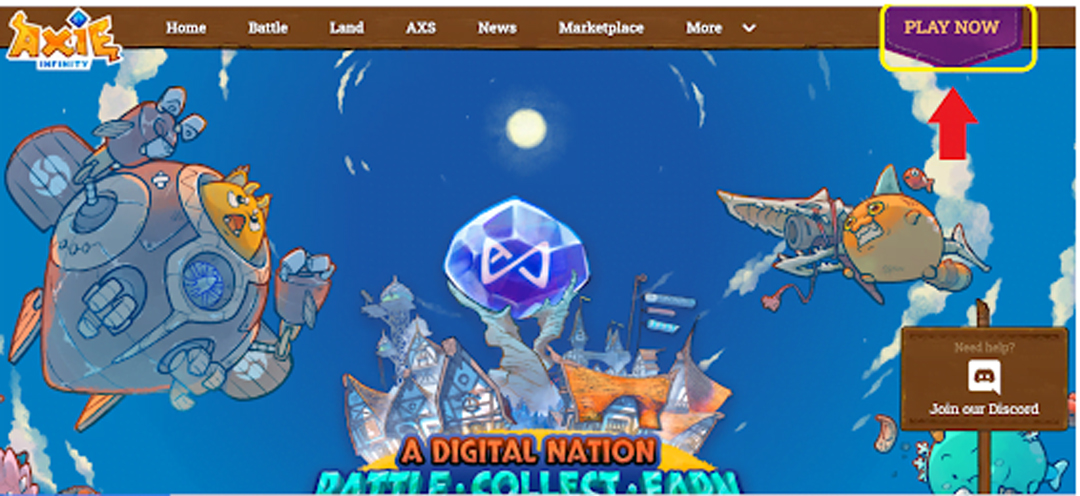 Step 9 : Learn how to play here and learn from fans like Axieworld.
After downloading the Mavis Hub App for your computer, you proceed to log in to the account created on the website. The following is the computer application interface:
Download this version to Install upgrading version.
Axie Infinity game interface after downloading is complete
Chossing " Play " and start play the game.
Adventure : Explore around the game.

Arena :  this is one of the fighting feature.

Axies : as known as pet.

Team : one of a group co-op

Inventory : Items used to increase the strength and skills of your pet.
Some basic informations about Axie Infinity
To better understand the animals in the game, Download Game Free will help you learn in the following section:
Status of pet Axie
Each Axie has 4 stats namely Health, Morale, Skill and Speed.
HP – The amount of damage your Axie can take before being killed.
Morale – Increases the chance of a critical hit.
Skill – Skill (combination) increases damage when Axie plays multiple cards at once. Extra damage is calculated as follows: (card attack * skill) / 500
Speed – The speed determines the turn order. Ax that attacks faster will be brought to the front. If both have the same speed, the order of attacks is determined as follows: High speed > low HP > high skill > high morale > low warrior ID.
Axie's stats depend on two variables: Its class and body part.
Detail of animal body parts
Each Axie has 6 body parts: Eyes, Ears, Horns, Mouth, Back and Tail.
Horns, Mouth, Back, and Tail determine which cards Axie can use in battle.
Added stats for each body part based on that part's category:
Class
Each Axie has a class similar to a "type" in Pokemon. Each class is weak and strong compared to the others. When calculating damage over damage, the attack's card level is compared with the defense's Axie level. This means that Bird cards used to attack Beast Axie deal 15% more damage. Beast cards used to attack Aquatic Axie deal 15% less damage.
Not only that, when a class's Axie uses cards from that class, it gains 10% attack/shield.
Note that these attack stacks stack on top of each other. Beast Ax cards deal 25% (10% + 15%) more damage to Plant Ax targets.
Breeding and make money in Axie Infinity
Just like real-world pets, Axies can breed (breed) to produce new offspring. These hatchlings can be used in battle, spawning new ones, or can be marketed by Axie Infinity.
Crossbreeding has certain resource requirements to manage Axie populations.
Each Axie can spawn up to 7 times
The cost of hybridization depends on the SLP token price.
You can earn SLP by playing in Adventure Mode and Arena Mode. Once obtained, you can sync them with your wallet from this page. Note that it will take you 2 weeks to withdraw your first SLP. After your first withdrawal request, you can submit a request every 2 weeks.
Small Love Potions is also a token that can be traded on decentralized exchanges Uniswap or Binance.
If you don't want to use your in-game potions to breed new breeds, you can sell the beast as needed.
5 things you must note before participating in playing Axie
1. Ronin does not cost money, so you play the game very conveniently. But sometimes the upgrade, fix is ​​slow and take up to 12 hours sent from Metamask still not over. Be patient, no problem because the data is on chain. If you want to be fast, you can only increase the gas fee.
2. Axie is not a cute animal game, you can play as much as you want. To play well, you need to think a lot, from combat tactics to skill sets to learn each opponent's tactics. It is very easy to play but you need to learn the knowledge in the game to play well. So what knowledge does it include? Since there are so many, I will talk about it later.
3. Literally, math is required to play Axie. You need mental math skills because every move is an attack. For example, the opponent has 400 health (HP) and you have 3 moves: 183HP for the first move, 151HP for the second move and 25HP for the third move, your 3 moves combined are enough to Kill your opponent?
4. If you want to "try" Axie, unfortunately you can't. Because you need to spend some money, at least 300$ to buy 3 animals (now even though you have 300$, it is very difficult to buy all 3 animals, the price has gone up a lot). In short, pay to play before you can experience it, but there are no Axie servers for you to "try out".
Not only pets, Axie also has many other items such as land, valuable items. Land sells for an average of $10,000 a piece (yes, you read that right). And related items are even cheaper, ranging from a few hundred to several thousand dollars depending on the type.
5. To play Axie well, you need to know basic English. Because all descriptions of combat skills are in English (in fact, you can use google translate). But it will be more helpful if you know English.
List of SLP earned by rank
Valuable experiences to build Axie team
Each Axie team consists of 3 animals. Each child is an independent system, and each system will have a different function. When lining up, they should be arranged from right to left in the following order:
The one that attacks the most will start first (because the opponent is attacking from the right, so the first attack is left behind).
The beast, this is the strongest attack.
The last one on the left will be the fastest and strongest (bird or fish type) because it will be hit first (remember Fast is the first one), the one of this type gets hit the hardest so it's out last.
Remember that the order of the hits is from right to left.
In general, the choice of which team is up to you, but you can refer to the following lineups (from right to right):
The best buffalo (aka tank): Plant, Reptile, Dusk.

The one with the strongest damage (High Damage Attack): Beast, Mecha, Bug.

Best hit (first hit): Bird, Dawn, Aquatic.
It is necessary to read the skill of each animal you have before fighting. I've made a very serious mistake in the past, that is, no matter how many moves I made, at the end of the game I lost. The reason here is that you must know how to combine skills and combine combos to be able to hit.
For example, Beast will have 2 skills that can be combined together, "Nut Crack" and "Nut Throw", when combined, the anti-dame ability will be stronger to defeat the opponent.
Or my bird has the skill "egg bomb" – Eggbomb, although the damage is very strong, it will have the function "Apply Aroma on this Axie until next round", ie if I use the egg bomb in this round, the round After the opponent will hit the bird first.
So I say knowing a little English will be easier, you should know 100% (always 100%, not 80%) of all the moves of the pieces so that when you play you know how to use them. And which one to hit first.
In my experience, you should do your best to keep your Tank class from dying in the first round. Because if you lose the Tank class, it is difficult to win becaus e it is the one that takes all the opponent's attacks. Somehow, you have to try to keep it alive as long as possible. Aqua class or Bird class (Fastest) has weak health and is agile (fast here means being able to attack before your opponent). The opponent usually kills them first, so you have to arrange last.
How to make money from Axie?
One day I only have 20E (Energy, thunder icon). Every 1 day it gives me 20E, more precisely after 6 hours it gives me 6 E (if you have 3-9 Axie monsters). The more E you have, the more mana you recover.
The game will have 2 game modes: PVE (Players vs. Environment, meaning against machines) and PVP (Players vs. Players, people versus people). What's the difference between these two ways of playing?
PVE ( Player versus environment ) – Adventure
1 match costs 1 E, if you lose, you don't lose E

But when you run out of E, you can still play PVE

Easier because you are fighting against bots

Unlimited games and playing time

Each winning game (depending on difficulty, easy) will receive SLP (SLP is a token, its price you can see here:

https://www.coiningecko.com/en/coins/smooth-love-Potion

)
Note: Two weeks after creating acc, players can withdraw SLP to wallet. After that, you can still get SLP withdrawals to your wallet every two weeks.
The current game is very easy, around game 6 and game 7 is already easy, I won 7 SLP for 1 win (equivalent to 50,000 VND), and the time to win such a game takes about 4-5 minutes.
In a day you can farm up to 100 SLP with the machine with the amount of more than 700,000 VND, the time to earn 100 SLP is about 3-4h / day.
The higher the level, the more SLP you can get. Example: If I'm level 4 now I get 4 SLP per game and after level 15 I can get more SLP for every match I win. So I will earn 100 SLP a day much faster, somewhere around 1-2 hours.
PVE ( Player versus environment ) – Adventure
Consume 1 E each time (or play again when you run out of E, you won't get the SLP or exp bonus, but the ranking points for losing will still be reduced).
It's harder because you have to fight with other people.
Fighting someone takes strategy and is hard to win.
Daily missions 
3 things you need to do in a day to get 50 SLP (~ 350,000 VND/ 15.2 USD )
a) Log in to the game to take attendance
b) Win 10 PVE style matches (it's important to note that if you replay a game you won again it still counts as 1 win, so with only 10 PVP wins, play out old game is still counted). You can refer to the maximum experience point level in the image below.
c) Win 5 matches of PVP
So, at most a day (you play at low level, about 3-4 hours/day), you can earn 150 SLP a day, equivalent to $45 you get i.e more than 1 million VND.
Strategy for beginners
Để có thể biết cách kiếm tiền ra sao, bạn có thể tham khảo các chiến lược sau:
To know how to make money, you can refer to the following strategies:
First 2 weeks of playing
Use the full 20 E for PVE. Then when you run out of E, play PVP. Why do we have to do that?
When putting all E into PVP, because the new player is not high level and has little experience, it is easy to lose. And every time you lose the game, you will be deducted 1 point E -> cost E.
Therefore, you should put all your effort into PVE, to level up and experience. When you fight the machine the probability of winning will be higher and the game will be easier. In particular, you will know the move of each champion in PVE. In PVP, each time you meet a different random party, you never know where. Since each team is 3 pets, there are many different actions. For PVE, you know how many turns, each champion's skill, how much health, etc.
Why upgrade your pet? Because the higher the pet level, the easier it is to pass the game (the level in the adventure map). The higher the level to pass, the greater the amount of bonus SLP you will receive when you win the level.
In short, we need to use plowing power to level up and gain experience (exp) to shorten the time to plow to 100 SLP / day.
Practice skills, accumulate a lot of combat experience, don't waste energy, win, complete daily tasks (daily mission is you have to log in + win 10 PVE matches + win 5 PVP matches will get 50 SLP/day)
Next 2 weeks of playing
When you play against bots (PVE) to a certain level (about level 10-15, max 36). Then you don't need to work hard to plow with E anymore. Since your level is quite high now, it only takes a little time and effort to reach 100 SLP/day.
If possible, use E to fight other players. For example, 20 E per day is divided into 10 E for PVE and 10 E for PVP.
You would optimize E to PVP. And the map and pet level is very high, the scan rate of 100 SLP per day is very fast. So you have to pay attention.
Compare some fighting options
There are 2 options that you could chose:
Option 1
You want to immediately put E into PVP to win and get SLP and complete daily quests. There is a total of 20/20 E, assuming win 1 arena match you get 3 SLP. If you win 15/20 matches, your immediate reward will be 15 x 3 SLP = 45 SLP.
After that, you still have to fight 10 more battles against the computer to complete the daily quest. Your map level will be low, if you win 2-3 SLP matches you have to play 30-50 PVE matches to complete the goal to get 100 SLP/day.
Option 2
You spend all your energy from E on PVE to hit the map cap, rewarded with 5-10 SLP/match for each win.
The goal is to just farm 10-20 wins per day to earn 100 SLP.
Besides, you can research to breed your pets. Newly born pets take a while to hatch and you have to pay an SLP fee. Pets can be mated 7 times, the cost and quantity of subsequent breedings will increase after each spawn, as follows:
You can breed pets here, just enter the IDs of the 2 Axies you want to breed and click Breed: https://axie.zone/breeding-simulator.
Tips to play Axie increase the most chances of winning
Tip 1 is to return to the previous map for experience and SLP.
Tip 2 is when you run out of energy for the day, hit PVP and lose to lower your rank. Because the more you hit, the more you win -> the higher the rank. Higher level -> professional opponents -> hard to win. Should be consumed when running out of E to lower the level. Then when you have E, use this power to fight in the arena and your chances of winning will be higher. Because now the opponent's rank is right for you.
Tip 3 is that after reaching high level and high experience, you can use up all E in the day to play the arena (PVP). When playing the map to get 100 SLP / day and do daily quests.
Summary
Just by reading this article carefully, you already know the details of how to play and how to breed a pet. The rest of you is to apply it in practice to experience the real money game for yourself.